Spotless Swing Golf Towel
At Swaygolf we have found a golf towel that helps the golfer during his round.  We go through over 200 towels a year in the rental division of our business and wanted to offer the best to our clients for a golf towel.   We looked no further that BrightSpotSolutions.  The Spotless Swing Golf Towel has great versatility; from the outside to get that spilled beer off your hands,  to the inner rough surface that takes out that stubborn grass and dirt from that last divot. The length is perfect so it will not drag on the floor or get caught in your truck. The inside keeps the dirt away from your other gear and the rough surface give you that much more of a clean. We tested these towels over a two-week period and over 30 rounds of golf, it's a tough job but we were up for the challenge.Spotless Swing Golf Towel is a must-have in your golf equipment set up and will be for SwayGolf for now on. Durability was good for the short time we reviewed but now that it is in our locker room we can update this review at a later time to see if it stands up for the test of time. The product comes in many colors from black, red, pink, white, blue and much more. Golf courses now have a marketing tool that others across the world can see because there is not a bag in the golf world without the need for a towel.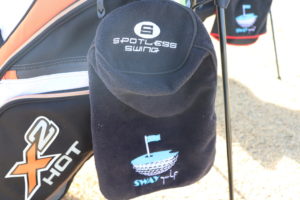 Business can stop giving away those pens that run out of ink or get thrown away and finally give a client a gift that keeps on giving. There are so many uses for this towel we wouldn't be surprised if other industries started using it.  The Spotless Swing Towel is a SwayGolf approved product and is officially the towel SwayGolf uses on all its rentals. Shop for yours now and say SwayGolf sent me, to get a free gift.