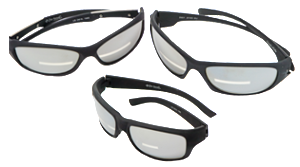 BIRDIEMAX PERFORMANCE GOLF GLASSES WILL REDUCE YOUR SCORE BY AT LEAST 3 STROKES PER ROUND!
At the PGA Expo I got to try these glasses out . I can honestly say the concept is strong and with a little practice you can start seeing it work in the putting game. It work so well for me they didnt have a left handed putter and i had to learn right yeah yeah i was on the bad side of the ball GO SOUTHPAWS .
SO you put the glasses on line the ball and the hole up keep your head down and you will see the ball travel in the slot to the whole. It forces your head still and keeps you from pulling up so you can see the basll travel down this imaginary line. IF your not in a putt you must take them off as it limits your site .