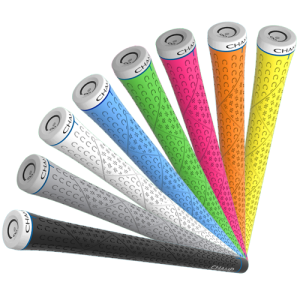 Product Description
-The C8 is made from a new optimum feel TPO material infused with Kevlar® for greater torque control and incredible wear resistance.
-A special tacky compound creates a non slip feel during all weather conditions and an anti shock wrap provides a comfortable feel and excellent shock absorption. A great grip for performance and feel.
Now talk about durability yet soft and tacky. It is great dry or wet. I'm amazed with all it had to offer. We put them to the test with over 10 rounds a week for the last two weeks and there are no signs of wear and tear Swaygolf rents a lot of sets every week and this alone with save us money in the long run. Just think if it can stand up to the rental industry what it can do for that weekend warrior , and for those with pain in their hands the anti shock is wonderful, especially when you don't hit it just right.
If we can work out numbers SwayGolf will have these on all their rentals for you to try.