Topgolf Las Vegas Grand Opening
A New Giant Plants Roots On the Las Vegas Strip

The Las Vegas strip is no stranger to golf, from Dunes to the soon to be closed Wynn Golf Course, Vegas golf has been around for decades. The golf industry continues to see a decline in interest, and the future is uncertain for this great game, until now.   Golf companies like Topgolf,  SwayGolf, PXG, and Callaway are reinvigorating the golf scene by taking what was a sport that was meant for the elite in private clubs, to the mass market, available for the average person to play.  This has opened up the sport of golf to the masses, allowing the golf industry to have a fighting chance against other sports. Topgolf is the brainchild of two brothers that had an idea and grew it into what it is today.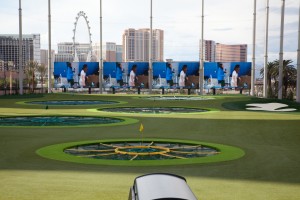 What do you get when Golf and Las Vegas have a Baby? What do you get when a company wants a flagship property and instead builds the Mothership? What do you get when you put golf, nightclubs, day pools, Corporate Events, concerts, gourmet food, and an awesome cocktail list together? Where will you go for a simple night out with friends or a family place that kids can go to in Vegas? The answer is Topgolf Las Vegas.
When this all started, you know that Topgolf Las Vegas meant business.   They partnered with MGM and now have a location on the strip that is easily accessed by walking, free shuttle from MGM or a ride-sharing service. Topgolf LV hired Las Vegas Industry professionals from the leading nightclubs, special events and meeting planner divisions.  They brought aboard top chefs to have an award winning cuisine line up.  They believe that if you want to have the best, you need to hire the best to represent your brand.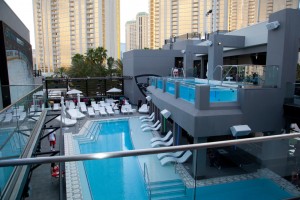 It all starts with the drive up to the Mothership, you feel like you're in for an experience. The front design is not of this world.
SwayGolf takes the course, Topgolf Las Vegas. From food, drinks, to the game over the next few weeks, we share the world of TopGolf Las Vegas. Stay tuned.
(all photos by
Patrick Rivera)