About Angel ParkGolf Club:
Dubbed the "world's most complete golf experience", Angel Park offers spectacular views of Red Rock Canyon, the Las Vegas Strip, and sits at almost 3,000 feet in elevation. Angel Park Golf Club features 2 tracks, the Mountain Course and the Palm Course for 36 holes of championship golf designed by the legendary Arnold Palmer& Ed Seay. For a quick-fix round in the day or night, Angel Park also offers the Cloud Nine Short Course (12 replicas of great par-3 holes from around the country) and the world's original 18 hole natural grass Putting Course lighted for evening play with your friends and family.
Angel Park has been the recipient of several awards, including the accolade of Best Golf Course in Las Vegas in the "Best of Las Vegas", Las Vegas Review Journal Readers Poll (11 out of the past 12 years) and "Favorite Golf Course" in Las Vegas by visiting golfers (as nominated by What's On Magazine Visitor Choice Awards). In addition, the Golf Shop at Angel Park has been selected as a "Top 100 Golf Shop in the Country" by Golf World Business for the past two years in a row!
Dress Code:
Men: Collared shirts with sleeves and non-denim, mid length shorts or pants.
Women: Collared shirt, sleeveless blouse of conservative design, and non-denim, mid-length shorts or pants.
Clothing that is not appropriate includes: denim shorts, denim jeans, t-shirts, swimming attire, gym shorts, halter-tops, tank tops, cut-offs and other dress that is deemed inappropriate. The Club reserves the right to refuse service to anyone who is dressed inappropriately.
Non-metal spikes must be worn while on the course.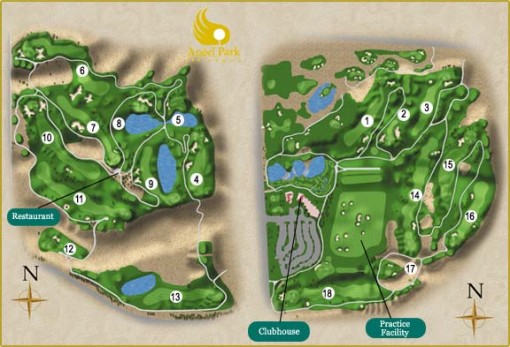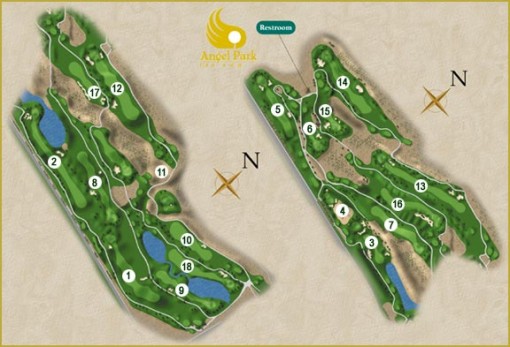 IF YOU PLAYED REVIEW